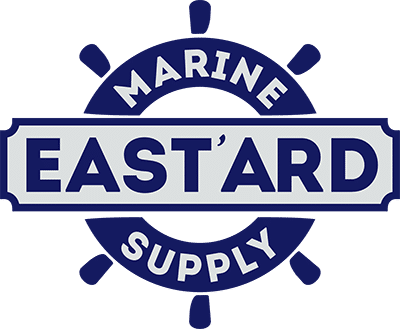 Welcome to East'ard Marine Supply!
Come Visit us at the Jarrett Bay Marine Industrial Park

Arrive by Car:
Jarrett Bay Marine Industrial Park
530 Sensation Weigh, Suite 402
Beaufort, North Carolina 28516
Arrive by Boat:
Intracoastal Waterway MM 198
34° 48′ 20″ N, 76° 41′ 07″ W
HOURS: Monday – Friday: 7:30 am – 4:30 pm | Saturday: 7:30 – 4:00 pm | Sunday: CLOSED
Major Brands Proudly Sold at East'ard Marine
East'ard Marine is your new supplier for Starke Yacht Care's revolutionary line of boat detailing and ceramic coating products for yacht owners, crew and detail professionals alike. Their marine-grade surface technology products are competitively priced and include high-quality compounds, polishes, coatings and sealants.
During our recent visit to Jarrett Bay Boatworks, I visited the East'ard ship store. As a 35 plus year professional Captain and marine industry veteran , It was quite refreshing to see such a well-stocked facility. I travel to marine repair facilities in the US and abroad. You don't see many facilities that actually stock the materials, products and hardware that maritime professionals are looking for and are on the shelf in your facility. Please commend your staff responsible for getting the store up and running and actually stocking what a professional mariner would expect in a first rate ship store.
Mr. Ramsey,
I wanted to take a moment to thank you for putting in East'ard out there at Jarrett Bay. In the process of putting Annie O together the past couple of years for Brad Sutton I have needed some simple and some pretty obscure parts. Each time I have had a hard time finding an item, somehow your guys out there always seem to have just what I need in stock. Rich is easy to work with and more than helpful. It seems every time I go to the store they have more and more items that you can't find elsewhere locally. I just wanted to say thank you to all of y'all for making my job easier. Have a great day sir.
Mr. Ramsey,
Just a short note to tell you about the great support I got from Richard Melke and his team at East'ard Marine Supply.

I built my 36' sailboat
Far Reach
from a bare hull over six years in a shed in my back yard. After launching in 2015 I sailed her engineless for five years making multiple offshore passages to and from the Virgin Islands. In the summer of 2019, I decided it was time for a small inboard diesel. I hauled out at Jarrett Bay (my third haul out there in six years) and stored my boat at Roy Wilson's yard in the JB complex.

This was a long challenging project which included designing an engine system that would work in my boat. I drilled and installed a shaft log, fabricated engine beds, designed and installed a fuel tank, designed milled and installed new cabinetry around the engine, built a new electrical panel, and of course installed a new Beta 25 HP diesel engine. Throughout the project, I relied heavily on the chandlery at East'ard.

Richard and his team were just terrific. They were always courteous and friendly. They always greeted me by name and helped me find what I needed. On the few occasions they did not have what I needed they ordered the part for me and had it on hand in a couple days or less.

It's the only chandlery I have ever seen stocked entirely for boat work versus retail clothing and other items not really related to boat projects.

The store is orderly and professionally maintained. As a retired Marine officer with over 26 years of active service I know what a professional organization looks like.

My project took me about 20 months to complete. I launched the boat a few days ago on 9 June. And, though I am very happy to be out of the yard and back on the water I enjoyed interacting with the professional East'ard staff. I had great support from Richard, Buddy, Frank, Justin, and Nick.

I also managed to purchase my engine control cables from Paul at the Marine Parts & Salvage shop. Another excellent resource.

I also wanted to mention that in the course of the last 20 months I have had a chance to talk to many of the Jarrett Bay employees as I worked on my project. I was uniformly impressed by their professionalism and enthusiasm for their work. I was chatting with the grounds keeper the other day and he was just as professional and enthusiastic about what he was doing as the rest of the crew. The travel lift operators are the best I have seen in 50 years of sailing. They have always made me feel at ease and seemed determined to address any concerns I have had.

While Jarrett Bay is clearly focused on big power yachts I have had a great experience there as a sailor with a modest sailboat.

Thanks again. I'll return for our next haul out.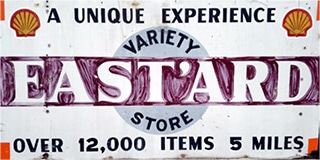 A Unique History
Formerly known as East'ard Variety Store, East'ard Marine Supply has reemerged to become the premier marine supply store in Eastern North Carolina, while maintaining the friendly atmosphere of it's Harker's Island country store roots. "The Variety Store", also known as "Cab's" was previously owned and operated by Cabell Ramsey, and later sold in 1996 under a new name. Now, Cab's son and owner of Jarrett Bay Boatworks, Randy Ramsey, is re-launching the store to provide the "unique experience" that his father made famous so many years ago.
East'ard Marine Supply is nestled into the expansive Jarrett Bay Marine Park located in Beaufort, North Carolina and offers over 15,000 parts in-stock with thousands more available by special order, plus an equipment rental service to be sure you can get the job done from start to finish.
We Proudly Sell Materials by the Foot, not by the Roll
East'ard Marine Supply is here to fulfill all your parts and supplies needs for anything marine from basic repairs to complete refits and rebuilds. Come by to see what sets up apart from the rest in service and inventory!
Electrical
Odyssey AGM batteries
Stainless Hardware
Bronze Fittings
Paint Supplies & Epoxy Systems
Oil for Diesel, Gas, 4-Stroke & 2-Stroke Engines
Adhesives
Protective Covering by the foot
Tools
Air Tools
Safety Equipment
And So Much More!
Call today and see if your desired parts are in-stock. If they're not, we'll work to get you them in a timely manner.